Omnia Leather Furniture – Made in America.
Selected Top Grain Leather Floor models are on clearance sale, we must make room for new product coming in.  One of the Largest Omnia Leather Dealers in Oregon
Our Leather furniture is all TOP and FULL grain leather.  This means there is no Bonded or bi-cast leather, no plastic, just real cow hide, the top of the hide that wears the longest and will give you decades of service and comfort.  Before you buy, check out our selection and colors.  All our leather furniture is offered in fabrics as well.  We have over 200 selections to choose from.  Motion and stationary available.  All American built!
Click here to see  100's  of frames, leathers and configurations.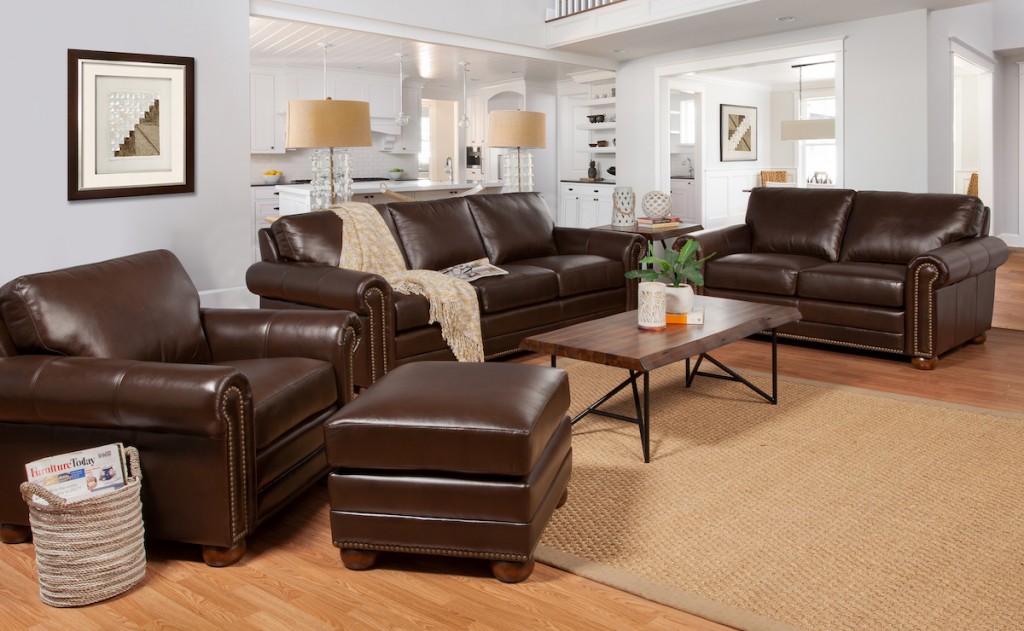 Our Power-Motion is the best on the market.   We have found that all Top grain Omnia leather sofa, love-seat or chair will last longer, look better and be more satisfying and comfortable than any of the other types of plastic/leather mixes that are available on the market.  We offer the very best in quality, service and value.
From Omnia Leather…Ergo Chairs, 2 sizes, 3 designs and Oh how comfortable.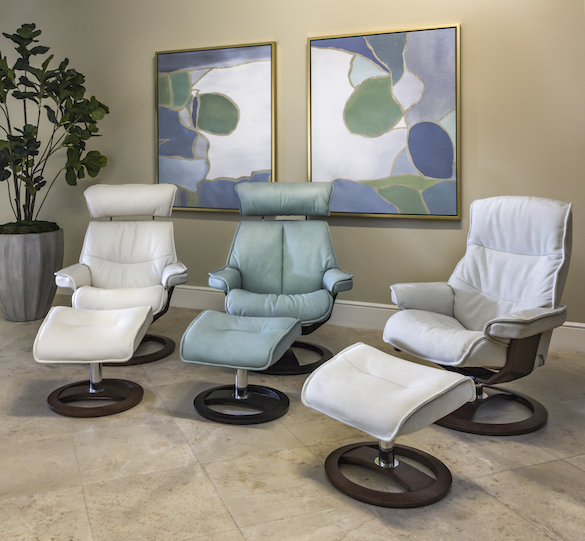 Amish Made Morris Chairs, Sofa's, Love's and much more.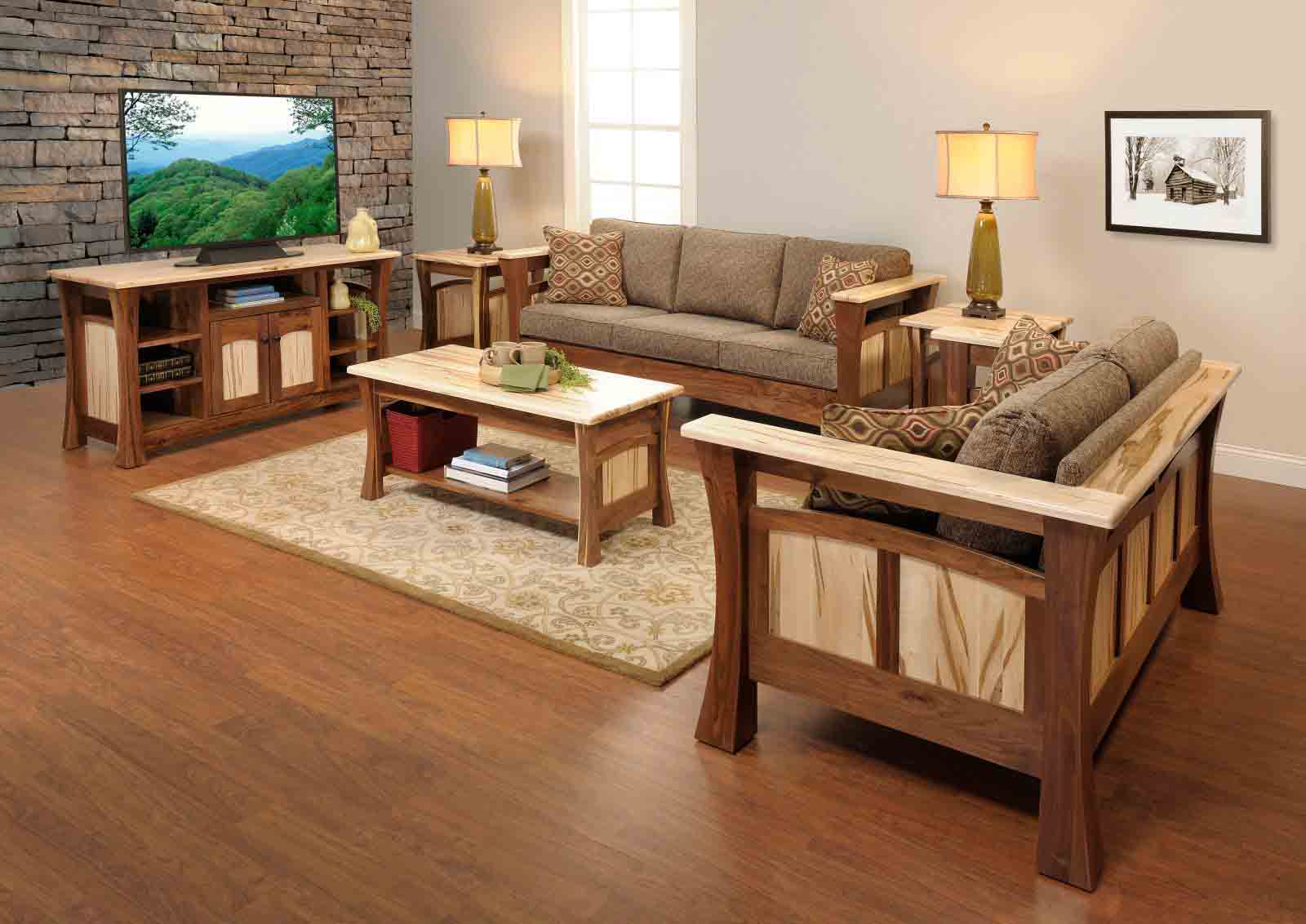 100's of choices of Fabric and Top Grain Leathers.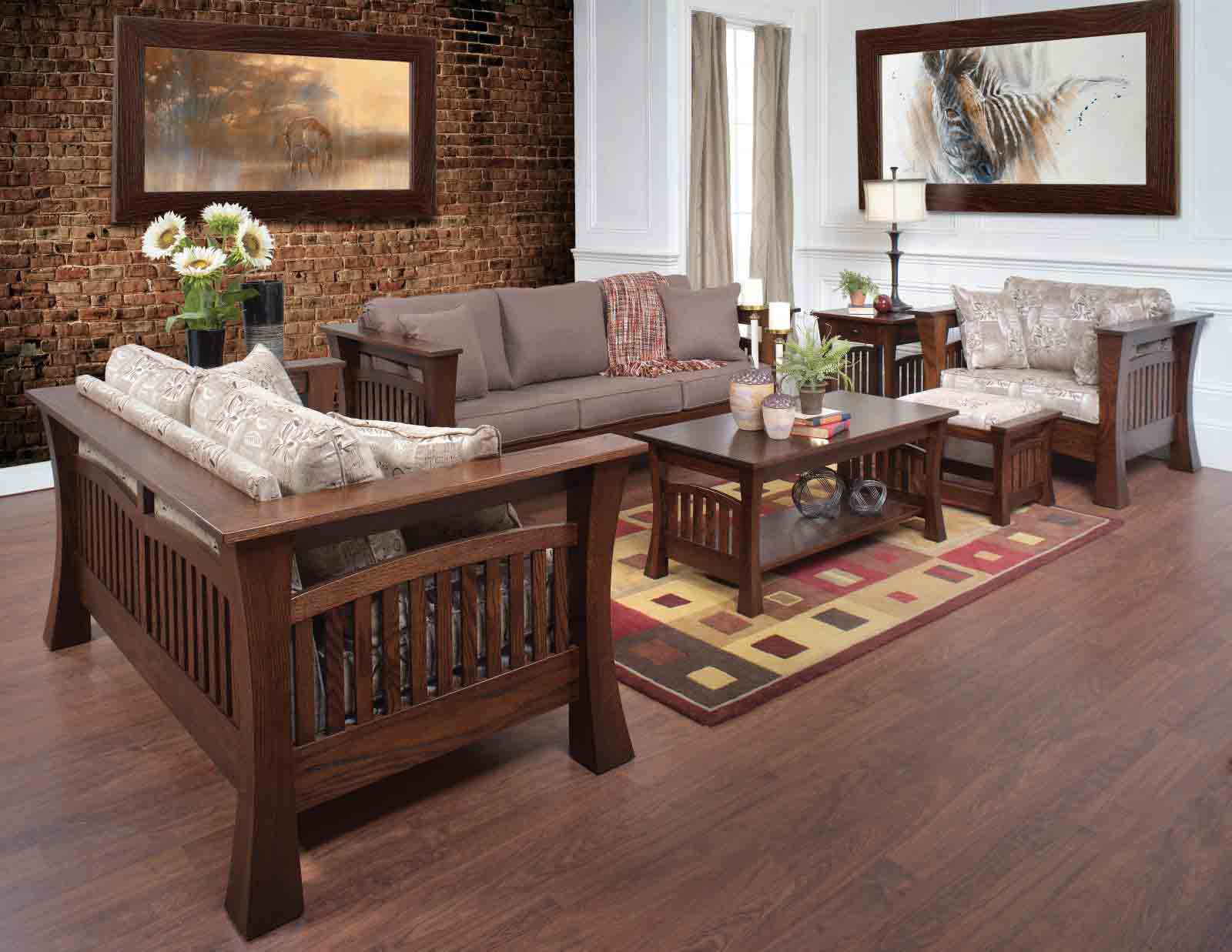 Choice of woods and finishes, Leather Fabric combos work well.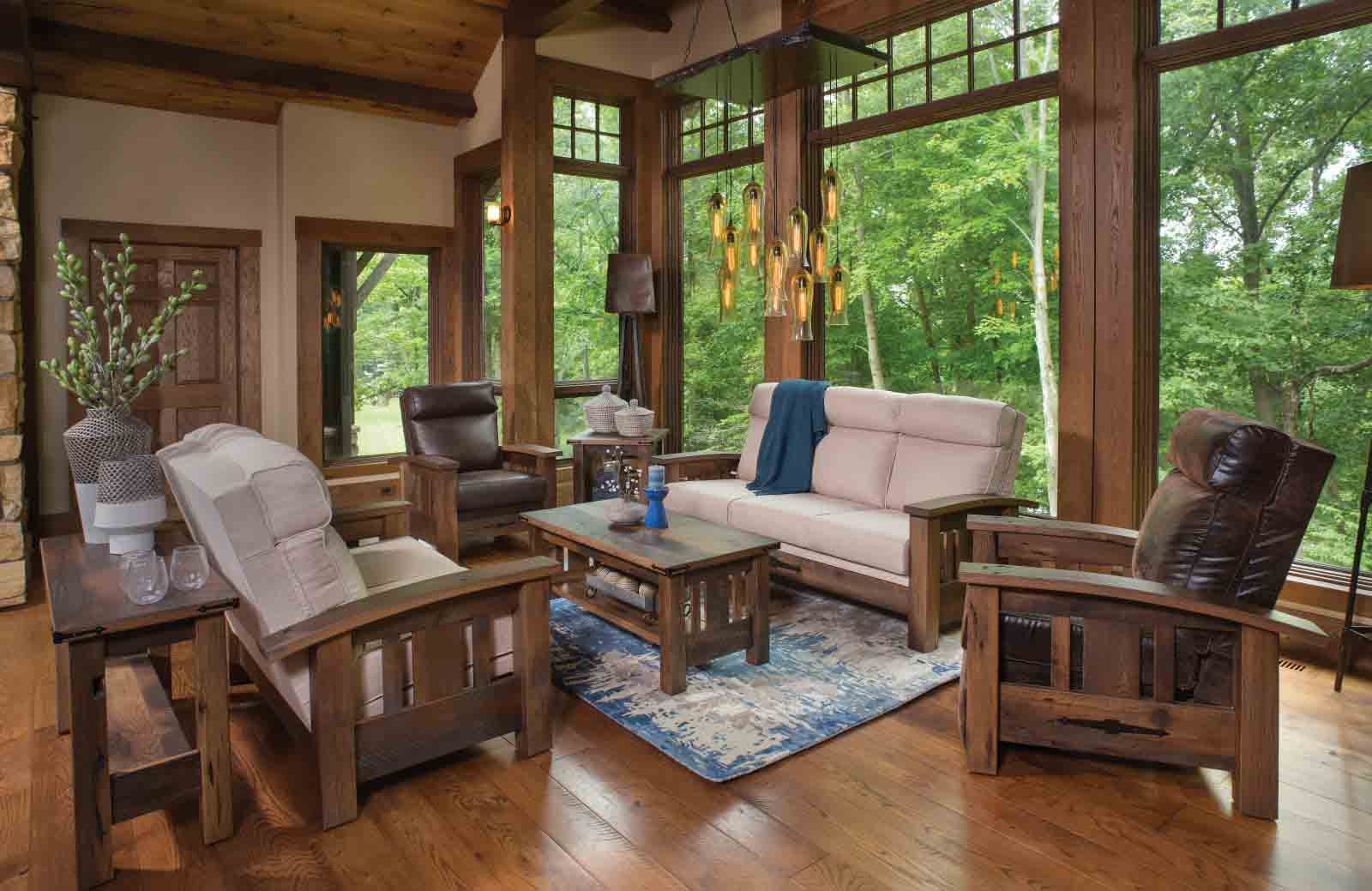 Old shaker look for a causal look.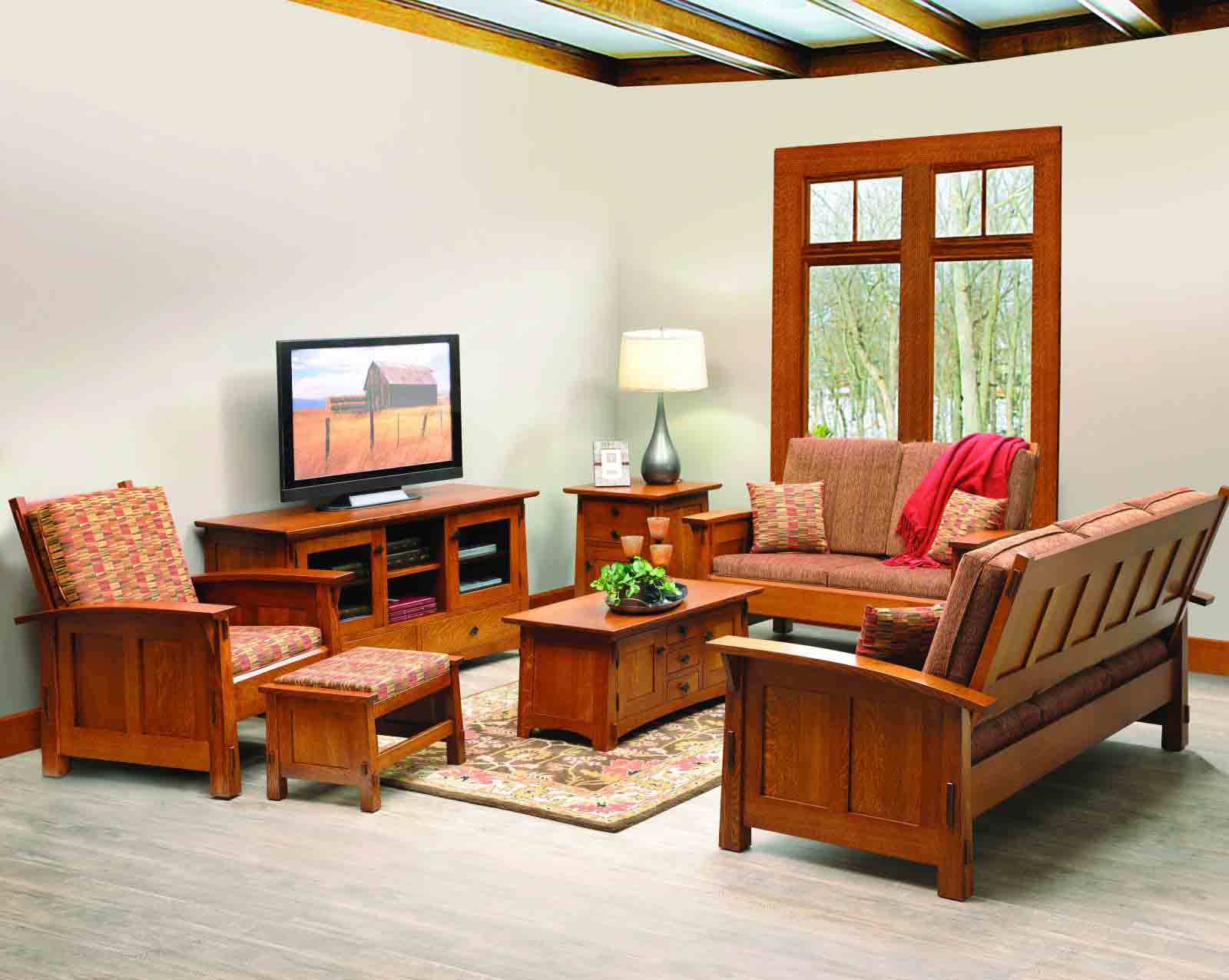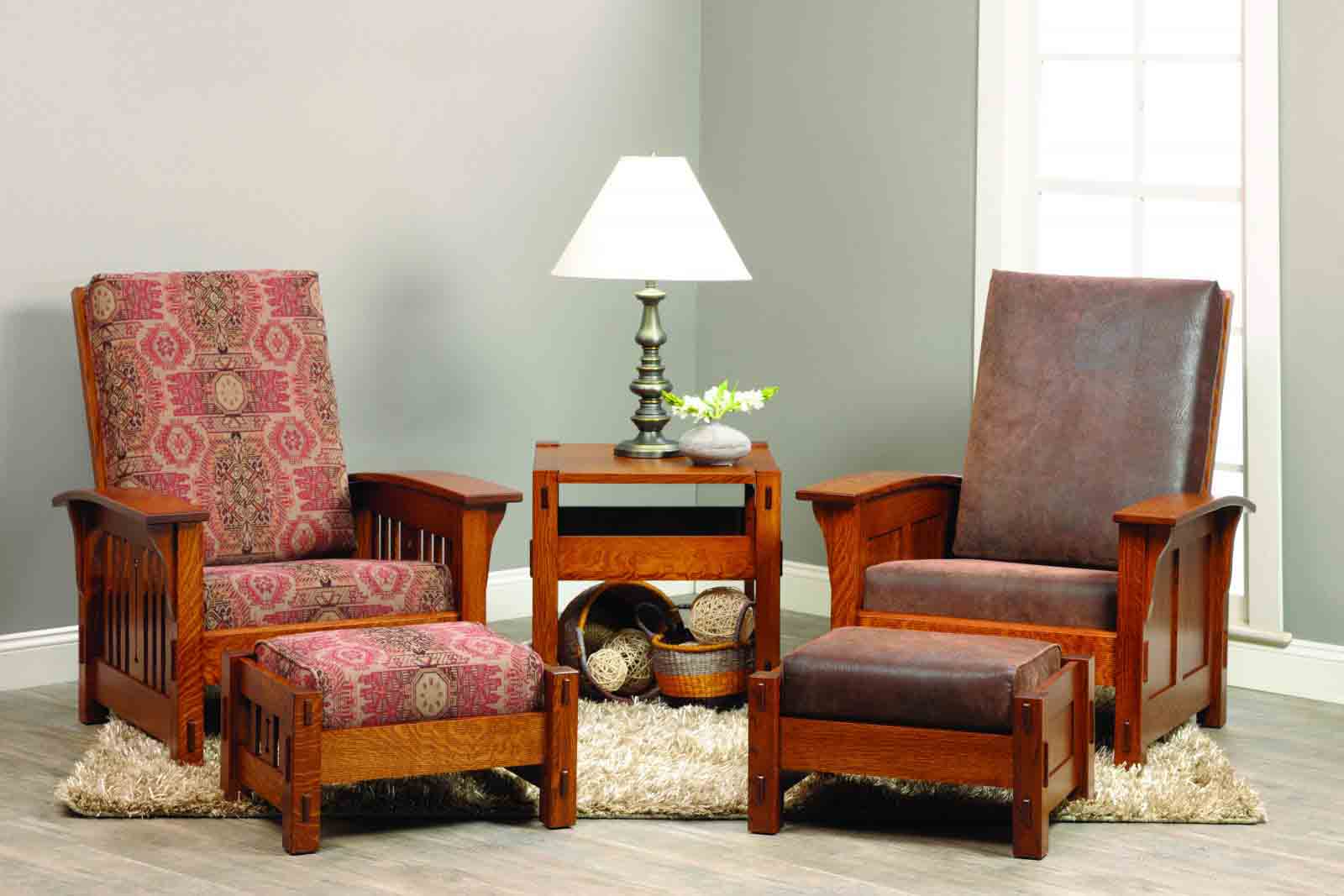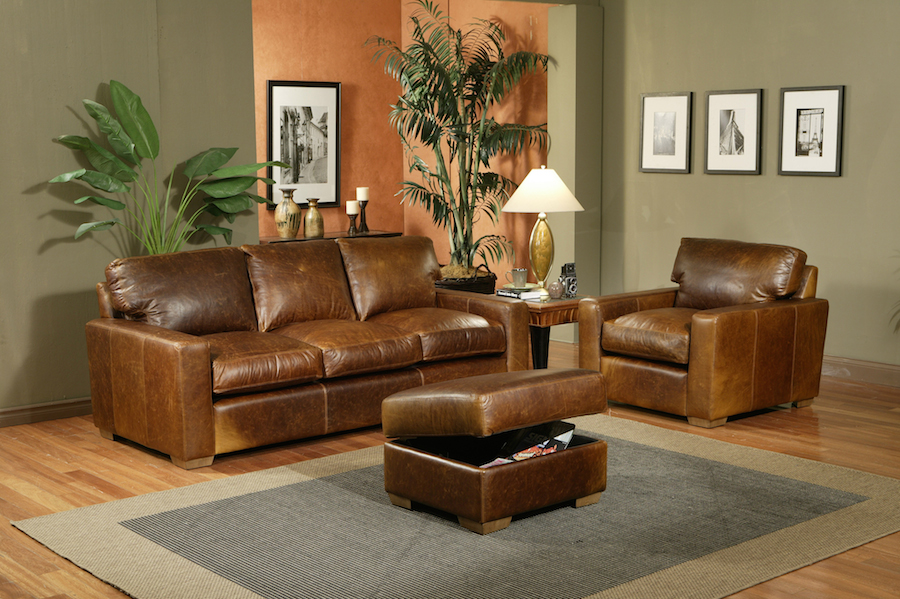 With Optional Power head and lounge recliners.  To new to link to factory.  4 arm styles.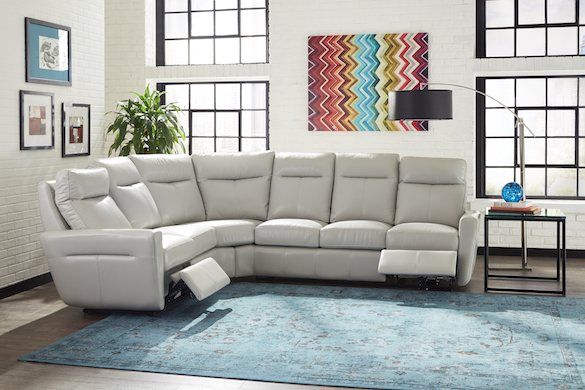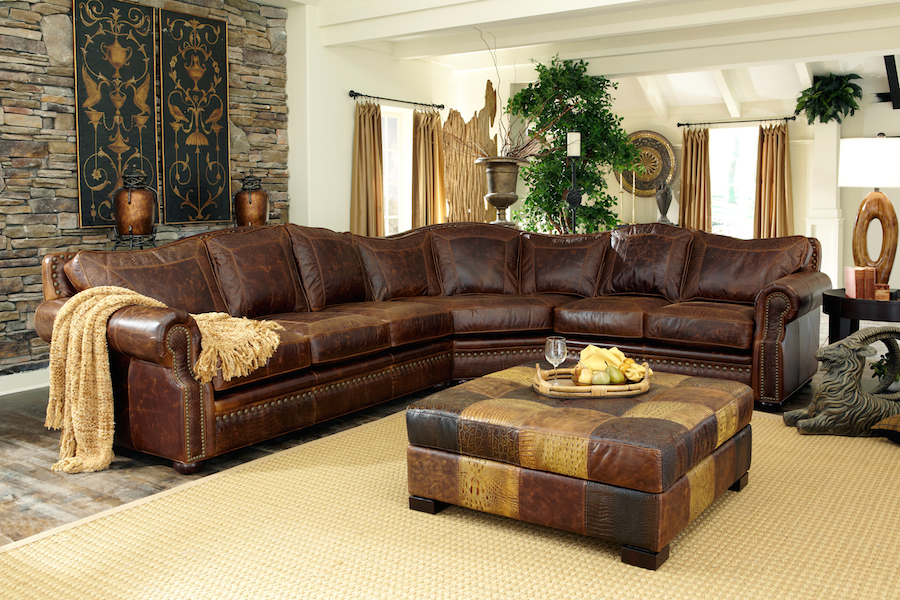 The traditional Morris chair is now available with POWER options.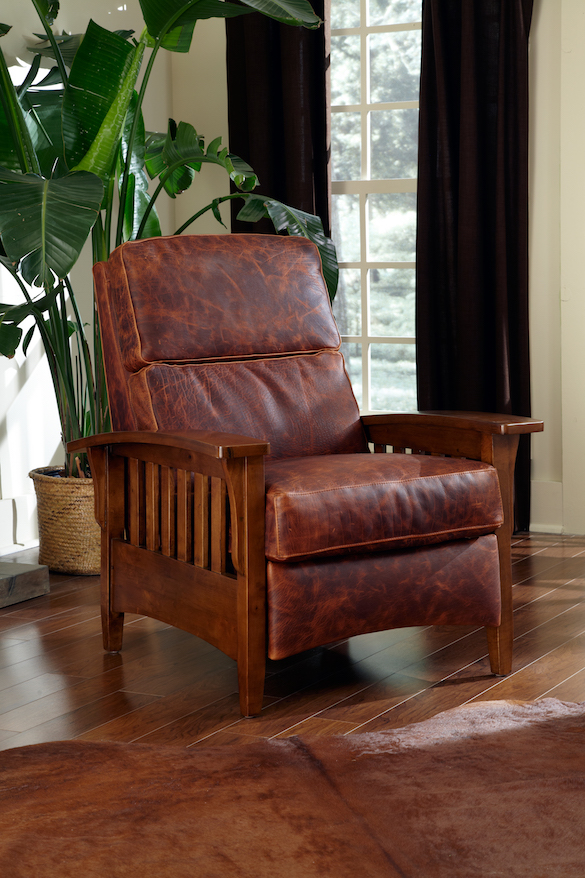 This is one of our best sellers.  Options of 2 leathers and POWER reclining.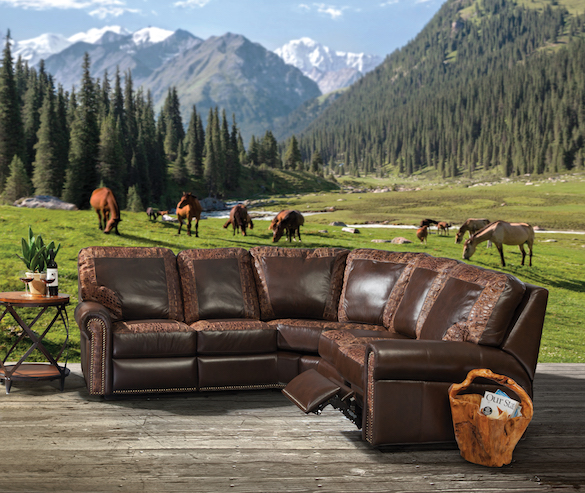 100's of frames and configurations.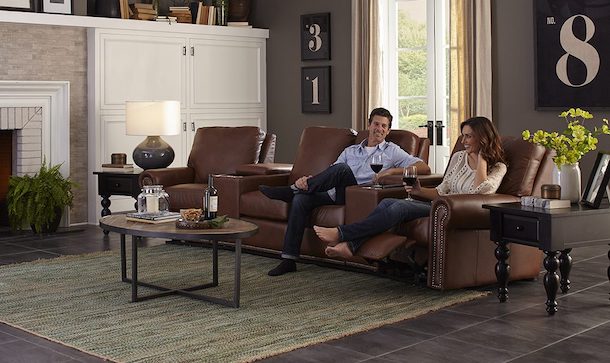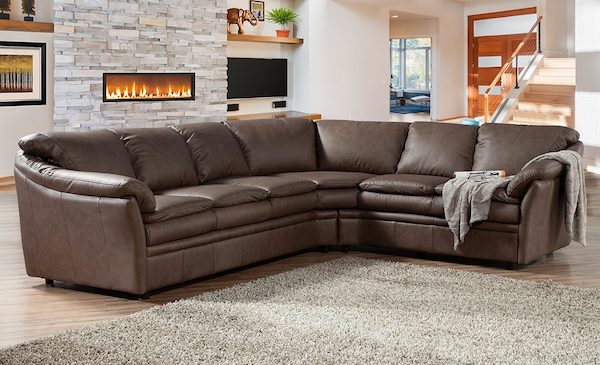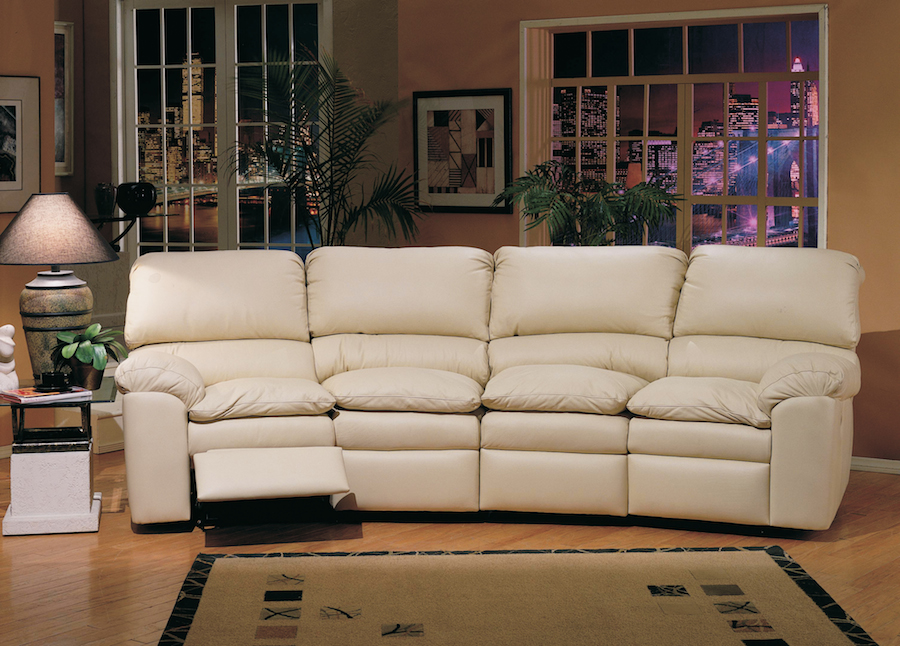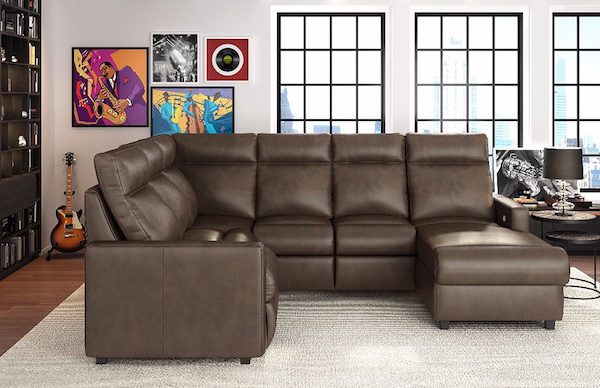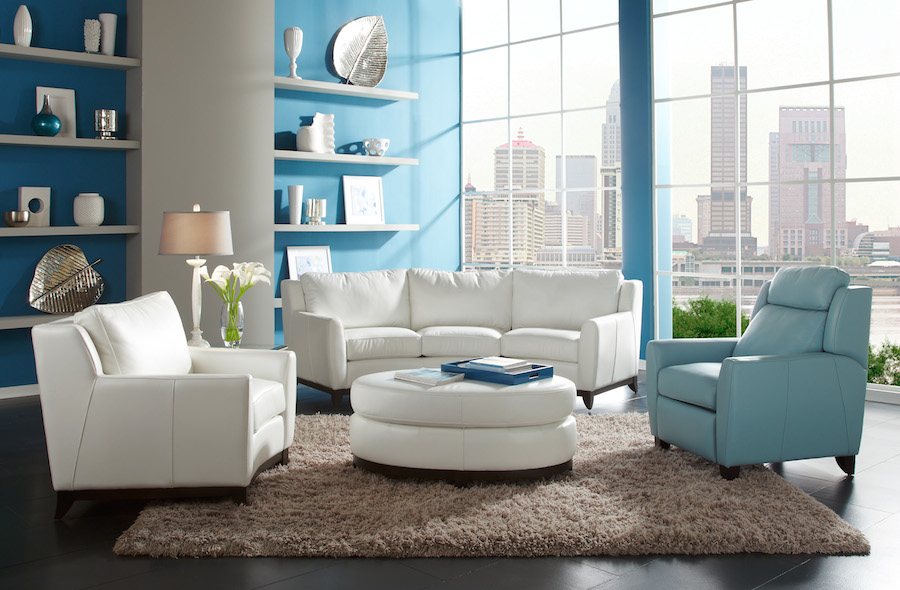 Amish AJ's Furniture  /  Amish Quality Fabrications-Fabric and leather  
What is REAL Leather
Leather Definitions
When making a leather furniture choice, various materials may meet your requirements. This information is intended to help you determine what product you are being offered and to assist you in deciding what you want in your home based on your budget, needs and an informed understanding of various product types.
The following terms are often used to describe the differences in furniture leather and other upholstery products:
Top-grain leather: This leather comes from the outermost upper layer of the cowhide, and is the only leather recommended for all high quality sofa leather. The best top-grain hides reflect that the animal has lived in an environment that resulted in limited scratches, insect bites or other damage. These hides can be minimally processed and used in their most natural form. Generally, less processing allows the hide to be softer and display a more natural character.  USA Furniture & Leather / Amish Connection offers ONLY Top and Full Grain Leather!
Corrected Leather: Corrected leather has been significantly processed so that lower quality top-grain hides may be used. Corrected means the application of more chemicals and paint, the stamping of an artificial texture and other processes. This tends to produce leather that is not as soft as less-processed top-grain but has a more uniform look and finish, making the product very durable. Corrected leather allows for a lower price for the final product. It is often best suited for recreational rooms or other places that require exceptional durability.
Protected Leather: This is simply another way of saying €œcorrected€ leather, except it may not be limited to top-grain. It refers to the fact that enough paint or other finish was applied to make the surface more durable than a more natural and less-processed leather.
Split Leather: The process of tanning leather involves reducing the hide to the thickness required for upholstered products. The back of an animal has a thicker skin, so it is split€ to create a piece of leather out of this extra thickness. This is real leather but has no natural surface and lacks the strength of top-grain leather. Split leather is processed by correcting the leather, giving it a stamped and painted surface that approximates a top grain, and then used for the backs and sides of sofas to reduce the cost of the final product. This use is legitimate and appropriate but the consumer should be informed when split leather is used.
Leather-Match: This term is used to describe an upholstered product where a portion of the product is real leather but the back, sides or less visible parts are constructed of an artificial material, usually vinyl. It is matched to look like leather. Leather-match is often used on motion furniture or recliners but can be used on any upholstered product. It is a method of creating a product that offers the sight and touch of real sofa leather but significantly reduces the final price.
Bi-cast Leather: This product comes in roll form like a fabric rather than the shape of an animal hide. It is really a plastic product that contains leather but in a manner where the customer neither can see nor feel the leather. The product uses the lower-value and lower-cost split leather as the backing of the product and creates a finish by applying a sheet of plastic on the front surface, usually polyurethane (PU), to provide the color, texture and strength. This product tends to be fairly stiff and is usually produced in dark colors only.
Bonded Leather: The term serves no purpose other than to permit the use of the word leather to be associated with the product. This is really a PU (polyurethane) product that has leather shavings sprayed onto the back. The top layer showing the outer color and texture is PU. The strength and carrier of the product is a thin fabric in the center. The leather shavings are applied on the back as described.
Bonded Leather Match: This is a construction where some bonded leather is used on a product and the balance is normally the same product without leather shavings. The purpose of the match is to reduce cost, while the purpose of the bonded leather is to allow the term leather to be associated with what is essentially a plastic or PU product. The product may be attractive and appropriate for certain consumer applications but it is not leather.
Polyurethane (PU): This is a very effective form of plastic that can be applied to fabric or other products to create beautiful and durable surfaces. The product is considered safe if appropriate materials and dyes are used, and is recommended for applications that are price-sensitive and require a high degree of durability. PU is very versatile. It can be made to replicate leather, suede and any number of other surfaces.
Vinyl: A product similar to PU but normally not as durable or versatile. It is normally lower in cost than PU so is used for match applications where strength is not an issue.
Nubuck: This is a term that has historically been associated with suede leather but is not a legal term. It is sometimes used for artificially produced forms of suede. If the price is exceptionally low, it is likely not real leather.
Microfiber: This is a unique form of fabric that is constructed in a manner that allows for various surface types, and can provide attractive characteristics in strength and durability. Unfortunately, this product can be produced at many price and quality levels so the term itself has little meaning in establishing its relative value.
Proprietary Terms: Manufacturers of non-leather products and producers of finished upholstered product frequently develop their own proprietary terms to describe their product (i.e. using invented names, such as combing new and €œhide€ with creative spelling.) As you can imagine, a frequent characteristic of these names is the tendency to use terms that imply strength and durability, or are associated with leather. Typically none of these names apply to real leather. The product they describe is usually a bonded leather or a polyurethane product. The product itself may be appropriate but the consumer should seek clarity as to what the product really is constructed of.
Take a minute and check out Omnia Leather Video Collection.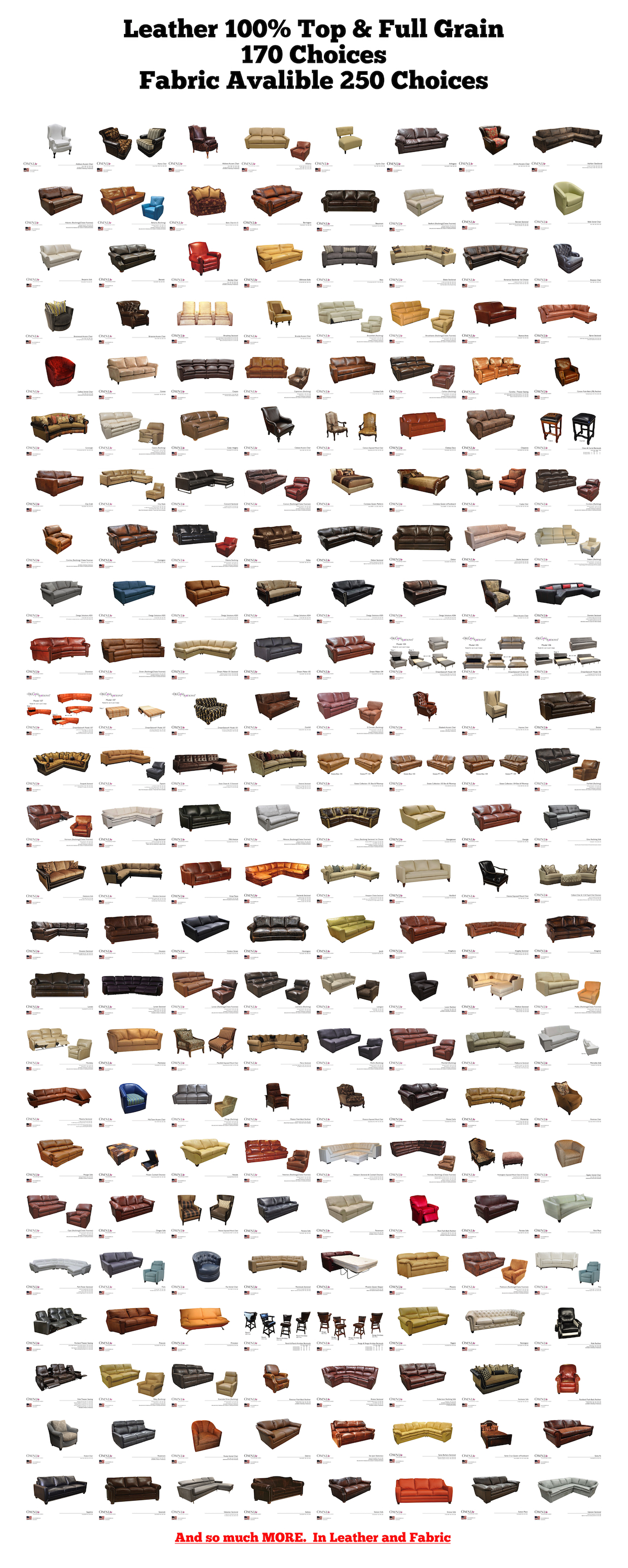 The following are all Omnia Leather Products, some were at the furniture shows and some the the colors are no longer available.  But the majority we can get.